Preview artacts'20
MARCH 6-8, 2020__ MUSIC, MUSIC, MUSIC ....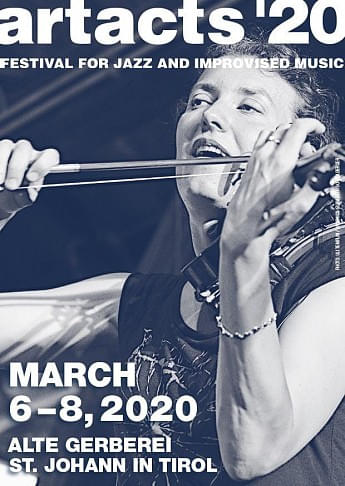 SCHMOLINER/DRAKE:

 Ingrid Schmoliner, Hamid Drake // HÖGBERG/CONCA/ 


BERGMANN/SARTORIUS

: Anna Högberg, Paed Conca, Elsa Bergman,
Julian Sartorius // 

KÜHNE/ULLMANN

: Almut Kühne, Gebhard Ullmann // 
HARNIK/

REMPIS/ZERANG

: Elisabeth Harnik, Dave Rempis, Michael Zerang //


FRANZ HAUTZINGER SOLO

 // 

FREE MUSIC ST JOHANN & MARKUS KÖHLE

:
Elisabeth Aufschnaiter, Wolfgang Brunner, Cäsar Cechmann, Bernard Embacher, 
Lukas Massinger, Markus Massinger, Barbara Romen, Gunter Schneider, Ingrid 
Wegmayr, Markus Köhle //

 WEBSTER/EDWARDS

: Colin Webster, John Edwards // 


URUK

: Isabelle Duthoit, Franz Hautzinger, Hamid Drake, Michael Zerang //


MOPCUT

: Audrey Chen, Julien Desprez, Lukas König //

 THE IRENE KEPL 

PROJECT

:
Irene Kepl & Various Musicians // 

EVANS/GROPPER/KOSACK/SAND/

STEIDLE

:
Peter Evans, Liz Kosack, Philipp Gropper, Jordan Sand, Oliver Steidle // DIE HUSBAND: 
Leo Riegler, Elise Mory, Marie Vermont, Aurora Hackl, Karolina Preuschl,
aka mc rhine, aka coco bechamel, Billy Roisz // 

4 BLOKES

: Jason Yarde,
Alexander Hawkins, John Edwards, Louis Moholo Moholo // 


SOUNDCABS

 // 

THE KIDS IMPROVISERS ORCHESTRA

, cond. by Franz Hautzinger
come early __ Thu. MARCH 5, 19:00 __ Photo Exhibition Opening 
----------------------------------------------------------------------------------------------------
SUBJECT TO CHANGE / ÄNDERUNGEN VORBEHALTEN!